Posted on
By Claire McMillan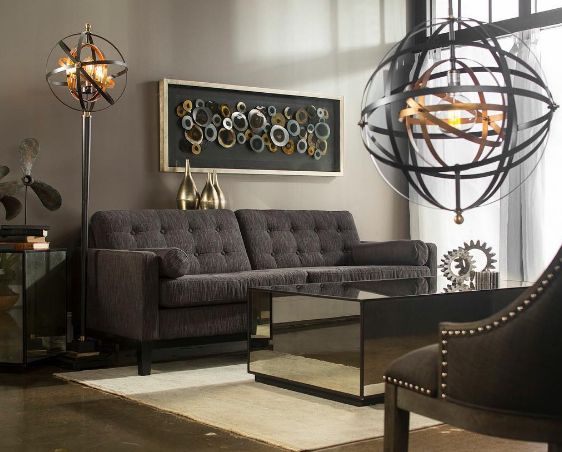 Creating that perfect living environment for your home heralds the use of good lighting. Lighting can not only aid you in all daily activities but also create the perfect mood and ambience in your home.
Whether you are a homeowner or you rent it is difficult to consider rewiring your entire home. However, with careful planning lighting should be a key part of your decoration scheme and often inexpensive. Bad lighting can make a room feel unwelcoming and often dated; your personality should shine through your lighting choices.
All rooms in your home need a variety of different lighting: accent, task and ambient background light. These layers of light create good general light while highlighting those little areas of intrigue in your interior décor. Take time to consider each room in your home and its function with the following tips to help you along the way.
For most people, lighting in their living room may be a floor lamp here or a table lamp there. Although these options are tried and tested why not introduce some new lighting options that are a little bit different. A sofa, for instance, cries out for elegant and sophisticated arc or swing-arm lighting. These lights generally tuck neatly under the base of your sofa and can be swung into position over your seating for reading or entertaining.
Bringing more light to certain key areas can draw your eye as soon as you enter a room. This can be achieved with the introduction of dimmer switches, a quick fix for all over your home. Why not set the main lights in your room on a different control than that of your accent lights? Remember, rooms that do not need a lot of artificial light, like the bedroom, benefit from mood altering dimmer controls with the occasional direct light source for reading and getting dressed.
You don't always need light in the middle of the kitchen. Instead make use of existing directed lights on countertops and kitchen islands. These lights do not necessarily have to be spots or recessed lighting. Consider using groups of pendant lights over your kitchen island and dinning areas. This will create the correct lighting levels but also visual impact and can tie a whole decoration scheme together.
Light vertical surfaces, like art or even the wall itself. Hallways end up being an afterthought in a lot of design schemes. This needn't be the case. Your hallway should be the bridge between your living spaces and can be quite dramatic in terms of lighting. Think evenly spaced lights over the length of your hallway with a grand piece in your foyer. This needn't be an expensive chandelier; the use of 'oversized' light shades is on pointe.
If you are still stumped as to where exactly you need to introduce new light fixtures or move existing, consider wandering around your room with a lamp (It's always nice to have a friend help you out with this). Place the lamp close to the walls, in the corner, at different heights, next to an architectural feature or your favorite painting.
By gauging which lighting effects you like and want to recreate, you may want some help selecting the perfect lighting options to achieve this. We are here to help! With different lighting designs and applications from all over North America there is no shortage of choice. Turn your lights on for a bright and stylish New Year!