Posted on
By Kathy Underwood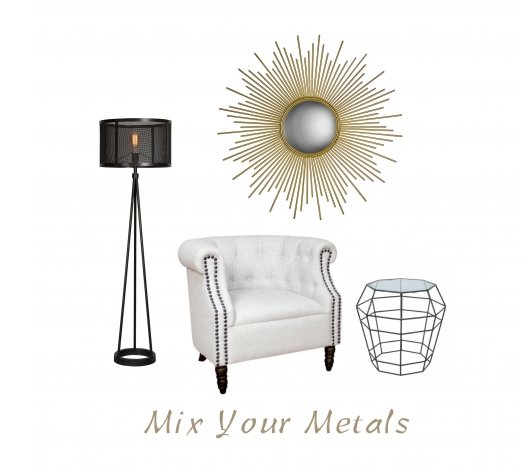 Mixing Metals
In today's interiors mixing metals is ok. In the 80's and 90's if your house had brass fixtures one felt that everything had to have brass accents. In the more recent past all was brushed nickel or black, but as of 2016 it is ok to mix it up. One of the upcoming design trends for 2016 is mixing metals. We can now think of metal finishes like we would think of paint colours. It is more than ok to have a dominant metal throughout the home but add some accent metals here and there for interest and to create a layered look.
It is very important to choose a dominant metal. A home feels choppy when every room is completely different. An example would be to accent a predominantly white house with black door hinges, handles and light fixtures but then allow copper or antiqued bronze to he used for furniture hardware, lamps, plumbing fixtures or accent tile.
When choosing metals think about warm metals and colours in contrast to cool metals and colours. Past design trends would have you group warm colours like red and orange with warm metals like brass. But mixing warm and cool colours can help you balance a colour pallet. For example if your space feels cold and stark due to grey walls or concrete floors think about mixing in some rose gold or copper in accent pieces like mirrors, picture frames or maybe an amazing wall paper.
A lot of design rules are being broken in 2016, however, one trend that hold true is to have a little black in every space. Natural iron is great for this and it accents the popular greys and whites beautifully. A wrought iron railing, coffee table or lamp will look great almost everywhere.
We would love to hear back from our readers. What do you think about mixing metals? If you would like to give your opinion visit our facebook page. https://www.facebook.com/PortfolioInteriors/
Kathy Underwood
Manager
Portfolio Interiors