With design esthetics like Scandinavian and Bohemian continuing to make a mark in our interior décor magazines, websites and blogs its time to think about how we can incorporate these trends into our own home.
You may be wanting to completely overhaul your interior space and start from scratch but more often than not we want to add that hint of pattern, touches of colour or artwork to create a cohesive look. This summer why not dive into the lure of Nordic culture or eclectic Bohemia?
Scandinavian design influences have become so popular due to the abundance of light wall finishes, space, soft textures and simple, well-designed furniture that create a tranquil living environment. By using natural elements such as unfinished blonde wood, raw concrete, wool textiles and shearling keep your home feeling warm and not cold or sterile.
We are not only thinking about the Scandinavian design classics from the masters but the way modern design has been influenced by these. This makes this style affordable and gives you the opportunity to select your favourite pieces in a colour or finish to suit your existing interior décor.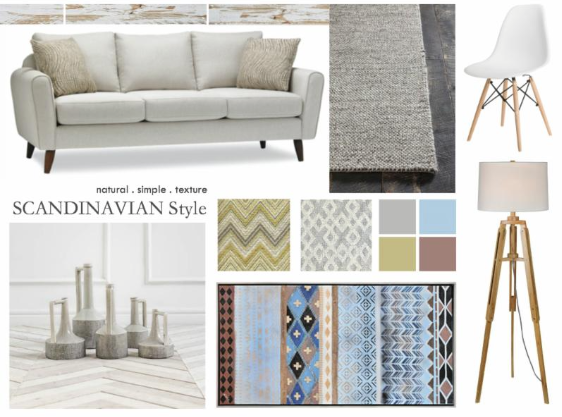 Colour does not need to be all about whites and grey, although the base, there can be carefully placed hints of mustard yellow, sky blue and clay. Moderation is the key! Apply your accent colour to only one large piece of furniture, whether it is your sofa or table and keep the more muted tones and natural woods overall. In a climate like Kamloops it really is beneficial to find your oasis at home during the hot summer days, with Scandinavian style you will feel truly cooled and serene.
In contrast, 2016 really has seen a resurgence of the Bohemian aesthetic of both exotic influences from different corners of the world and pieces with a strong regional look. This style trend really highlights our own personality by incorporating those 'treasures' you have found on vacation, vintage finds or antique pieces while pairing them with modern decor.
This bold statement favours contrasting geometrics, stripes, florals and abstract patterns in your upholstery, accessories and artwork. If you are confident use these patterns on your wall coverings or on a smaller scale your accent chairs, cushions and rugs. Not many styles allow you to decorate with such vibrant colours and need not be perceived as clutter or chaos.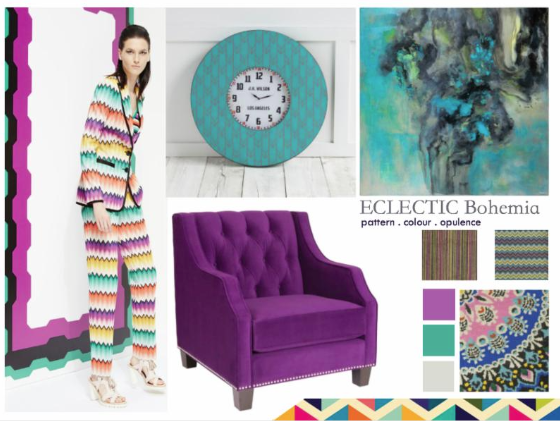 You do not need to fully commit to the Bohemian theme, by using your already existing contemporary or even traditional pieces in your home the term 'Boho-chic' is the ideal compromise. Bohemian eclectic interiors are all about selecting the elements that work for you and your vision, mix colours, mix patterns and definitely mix your existing furniture with new!
As a designer my style influences come from all over the globe and 2016 is a really exciting year for me to help pick the perfect style for your home. At Portfolio Interiors we pride ourselves in having the variety and trusted suppliers for our designers to select from. Don't just stop at an aspiration; make your ideas become a reality today!
Have questions about decorating your space? Contact Claire at [email protected]